In 2012, Bassem fled Syria to Jordan to the Za'atari Refugee Camp to escape snipers, machine gunners, rockets, and bombs in his hometown in the south of Syria. He figured he would be in the camp for a few days and then get back to his undergraduate university studies. That will soon be four years ago.
Za'atari Camp has changed a lot since Bassem first arrived. From a cluster of hundreds of emergency UN tents in the middle of deserted fields not far outside Za'atari town, it has grown to become the 4th largest city in Jordan - a sprawling "home" to 80,000-120,000 people just seven miles from the Syrian border. The Syria conflict rages on and most residents of Za'atari now figure that they will be there for a while. If the UN average for refugee camps holds, it could be 14-28 years.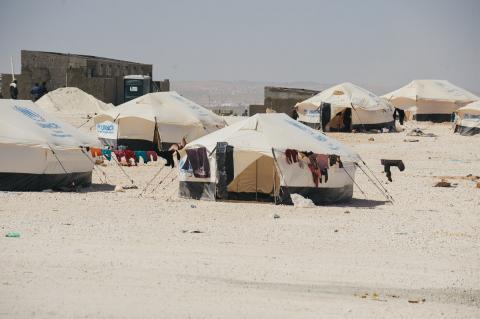 14 years of waiting. Lives on hold. A hundred thousand lives on hold. Engineers, nurses, accountants, media and IT guys, marketing guys and business owners, really talented people, ousted from their lives by war.
It's a hometown where people who have no choice have to live. There are no other choices. They cannot return to Syria and they cannot get jobs in Jordan to set up households, so Za'atari Camp is their only option. There are no paved streets. No water and sanitation systems. No regular electricity, if at all. A handful of street lights.
This will be Bassem's fourth winter in the Camp.
Winter is brutal in this deserted area. Flat. All around flat. Nothing between you and the Siberian winter winds. Cold. Cold. Cold. Sleet and snow that drives into your face horizontally as the wind scours the sand and whips it into your eyes. Temps hover between freezing and 15 degrees above. Cold.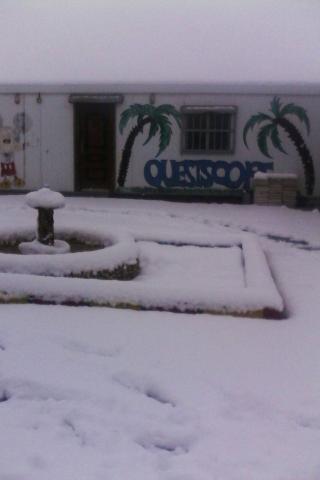 The Questscope trailer last winter after a snowfall.
Tent walls are no defense against the cold. Even caravans (like stripped-down mobile campers), are hardly better. And Bassem is single. No children. And no elderly to care for. Imagine children and grandma in this cold.
There are, however, some spaces of hope in the camp. A major one is the Questscope Youth Center. A generator provides heat and light there. Bassem and his mentoring friends provide emotional warmth and soul-nourishing relationships there. There are 300 mentors, committed to building a community of caring, hopeful people in the cold. A lot of good stuff will go on this winter in that space designed for young people to hang out.
Join us in preventing the effects of freezing cold wind and rain. And in preventing the effects of cold hopelessness in the heart. This is something we can do. With you.

Za'atari Camp from the air.