My name is Hatim Hamroush. My beautiful wife and I live in Homs, Syria with our three wonderful children. I lost the use of both of my legs some years ago and now move with a wheelchair, but I have never let my disability stop me. Instead it taught me strength and reminds me of all that I'm capable of overcoming.
I want to spread hope among people. I try to be the hand that reaches out to others who have also experienced pain and loss in order to help them stand. I show them that if I can overcome obstacles – anyone can.
In April, my friend invited me to join a cycling event called "Peace Trip" organized by 12 volunteers from SSSD. Over 700 people came together that day.
A lot of people didn't have bikes. Some walked and some drove. I completed the race in my wheelchair. People just wanted to participate in whatever way they could.
We passed through the neighborhood where my family and I used to live, and grief washed over me as we went by my old house – destroyed and abandoned. But then I looked at everyone around me and I saw people who were strangers just a few hours ago coming together as one.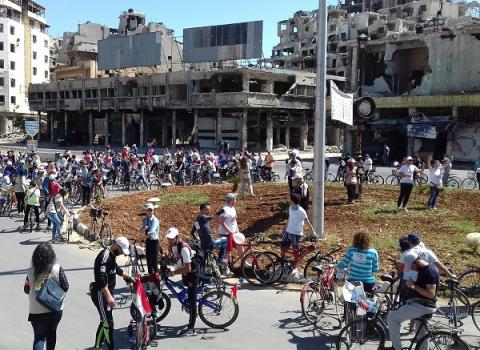 We have all survived siege, starvation, separation from family, and the destruction of our homes. We live with the fear of not knowing what will happen tomorrow. We long for the presence of love and humanity in a place overtaken by years of death and violence.
The most beautiful things I saw that day were the souls of so many different people coming together for one purpose. I saw all the colors of home blend together into the color of peace.
I felt the breath of new life return and the heart of Homs start to beat again.