For 30 years, we've walked alongside two sets of friends: those whose lives were suddenly devastated by war or slowly stifled by poverty, and those like you who help them get the crucial relationships and attention they need to survive and thrive.
Connecting them to the tools and resources they need to begin anew. And recognizing within each person her inspiration, his hope, for a life worth living.
Our heroes are our Syrian staff and volunteers who risk their lives for others every single day reaching out to their neighbors and communities – places most devastated by the seven-year civil war.

A collective shelter in Syria.
No one has emerged unscathed by the terror and violence that has torn families and society apart.
The example you have set by helping people caught in this violence inspires all of us. Especially in a world that seems to expect that love is a limited commodity that we can run out of.
For all those who lost their loved ones, watched their homes be destroyed, and felt the fear of imminent death – you chose to listen to their words and see their experiences. Even when it was painful.
For refugees the world labels "problems to solve" instead of persons with strengths to offer the world for solutions – you stood up for their voices to be heard and supported their actions for change.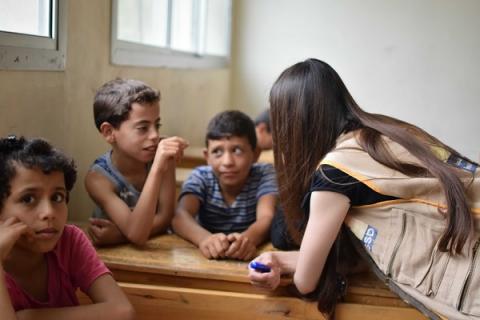 Always wanting to hear what our youth have to say.
The work of change is a humbling, gritty place. We have to step outside of ourselves and stand with people dismissed and sidelined by a world that says it has "run out" of love. No more left over for "them."
We cannot stop the war outside, but we can stop this inner war – that says there is no more love left over. I believe that love is never ending – the more we give it away, the more we grow it. We can act in ways that welcome every person to be heard and that create space for a life worth living.
When we put the last, first – we all change.
I've got hope for 2018. Not because of the "world situation." But because of the two sets of friends we have walked alongside for 30 years – both of whom give love in their own ways, in their own circumstances. We have a lot to accomplish together in the coming New Year.
Best to you, each morning!
Dr. Curt Rhodes
Founder and International Director